Back to Table of Contents

Buying a home ranks as one of the greatest personal investments anyone makes- and moving as one of life's greatest stressors. Being organized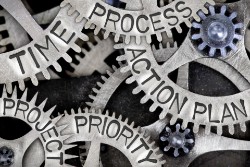 enables you to navigate the process successfully to achieve your home-ownership goals. And that requires developing a team mindset to include a lender and Realtor. The team you create then works in sync so your goals will be realized.

Here's how:
Ask yourself how much you can afford to pay for a home. If you're not sure of the price range, talk to a lender to find out. Just remember this important fact: the amount you are pre-approved for represents an amount the bank is comfortable lending. It does not always represent an amount that your household is comfortable to pay back.
Agreeing to the maximum loan amount the bank will lend may overextend your household budget. While the bank tells you what's possible, you tell the bank what's realistic.
Staying within your household budget is more important and contributes to your peace of mind so you can enjoy the home you buy.
With your budget in place, and having been pre-qualified by your lender, you are now ready to look at homes. By pre-qualifying first, you'll avoid common pitfalls of many first time home buyers- 1) falling in love with a property that is out of budget range or 2) losing out to another buyer who already is loan approved.
Once financial due diligence has been completed, then decide on location. Do your best to narrow the options to one or two locations or neighborhoods.
A few things to consider regarding location:
Lifestyle- do you love walking out the front door and being in the heart of the city like Merrifield and Tysons Corner, or is the quiet seclusion of equestrian properties in Fairfax Station and Oakton preferred? Perhaps planned communities like Cameron Station in Alexandria are more suited to your life.
Commute and proximity to Metro Station or VRE - how important is that to your work week? Do you drive west on 66 to work, or take the Metro into DC? What Metro line do you need to be near? Have you considered starting with those cities? Have you studied the Metro Line map?
School Pyramids- for state and national rankings, check out GreatSchools.com and US News & World report. Northern Virginia schools consistently rank among the highest.
Local Transit- Do you need to be near a MetroBus, or is Uber enough?
Trails- The W&OD trail weaves throughout Northern Virginia, and many neighborhoods have additional trails. Do you need to walk out the door and hit the trails, running or biking?
Cost of Living- is it worth considering a home located further out if it means more house? Or are you better off in a smaller home with greater community amenities and closer to work?
So prioritize your priorities- all of these factors (and others specific to your circumstances) factor into determining the better location. If you can't have it all, then what's more important- school pyramids or cost of living? Closer commute, or more land?
The more you envision the details and plan your home-owership future, the more likely you will achieve it!